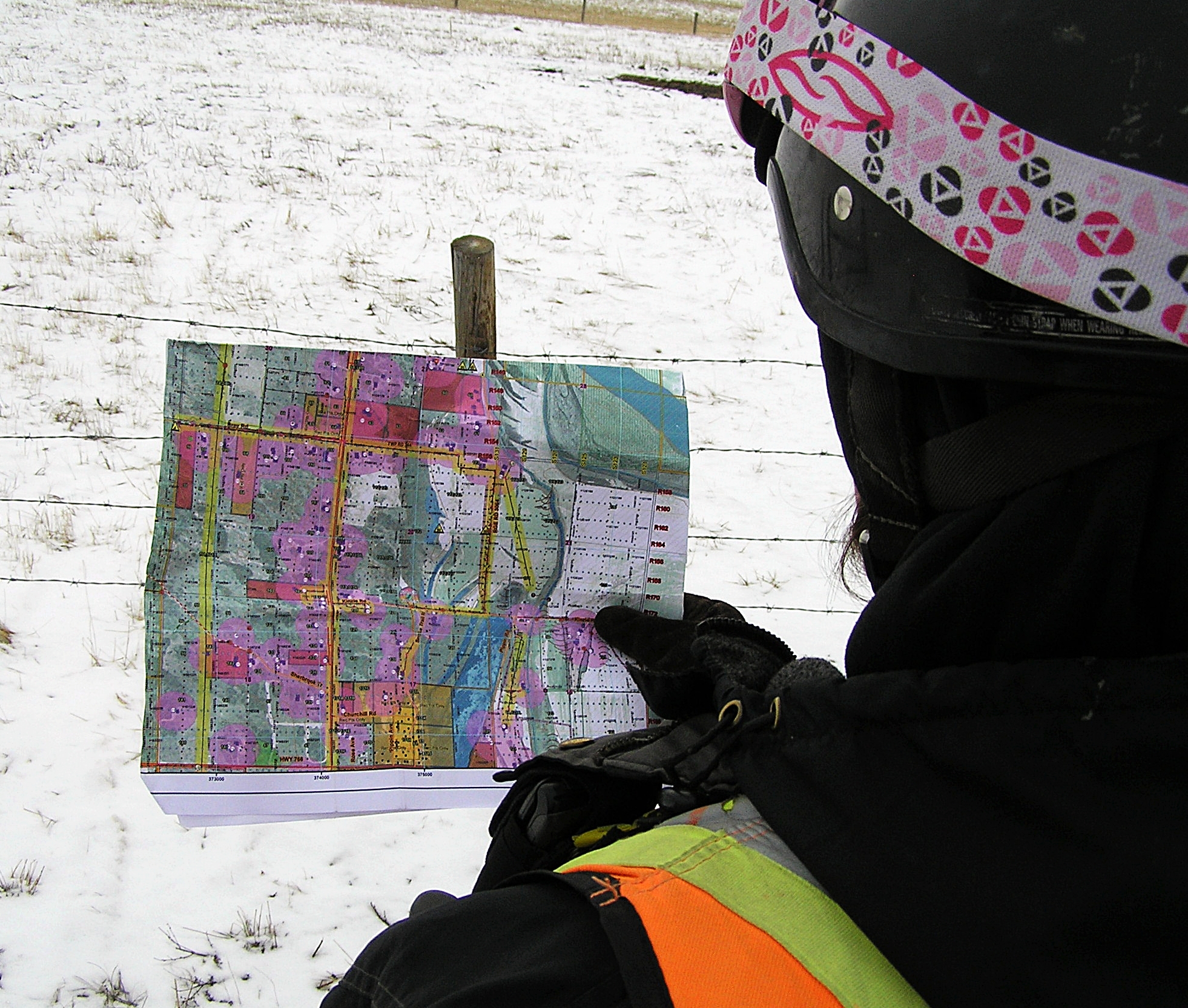 Mapping is a key element of successful communication between all contractors working on a Seismic exploration project. It gives all workers a visual representation of how to access around the project site safely, hazards they will encounter, and important exclusion zones and setbacks for the Survey team, Drills, and line crew alike.
Raymac Surveys Ltd. has plotters on each work site so that daily updates of the map can be provided to the onsite crew based on the previous days survey and hazards identified.
Other mapping services provided include Digital terrain modeling(slope analysis), Lidar mapping, Drainage site surveys, surface modeling, and other custom survey mapping projects such as campgrounds, golf courses, and farm applications.
Exclusions zones include any structure or feature requiring a setback(the distance the energy source must maintain at a minimum).
These locations include residences, waterwells, concrete foundations, dams, buried facilities, cemeteries, heritage sites, lagoons, or any other feature that is designated in approvals, or permits as requiring a setback. These locations are all surveyed and added to the map with an associated setback buffer which allows the survey team to ensure proper distance between the feature and the energy source is maintained.
Access for the project site is added to the map to show all phases of the Seismic project how to efficiently and safely access the lines. This will include mapping fences, gates, creeks and ravines, Lockouts, permit access restrictions, roads, trails, walking paths, line cutting, and point to point access tracks(cookie tracks).
Raymac Surveys Ltd. Surveyors will identify any hazards they encounter while surveying the project. These hazards are identified, classed, and mitigated if they cannot be eliminated as part of the Hazard program. All hazard locations are surveyed and added to the map on a daily basis allowing the crews following the surveyors working knowledge of the hazards they will encounter.
The maps produced are provided to the crews in a printed hard copy format, as well as digitally so that it can be used on tablets or phones utilizing such programs as Avenza. Garmin files are also produced so that crews can view the updated map as a backround referenced to their location as they move around the site.
Raymac Surveys Ltd. is an ESRI based company using this suite as its primary mapping software. Other additional software used will include OZI Explorer, MapWel, G-Raster, Garmin Basemap, and the windows office suite.
Plotters are Canon 24 and 36 inch in the field and a 44 inch plotter available at the Raymac Office.